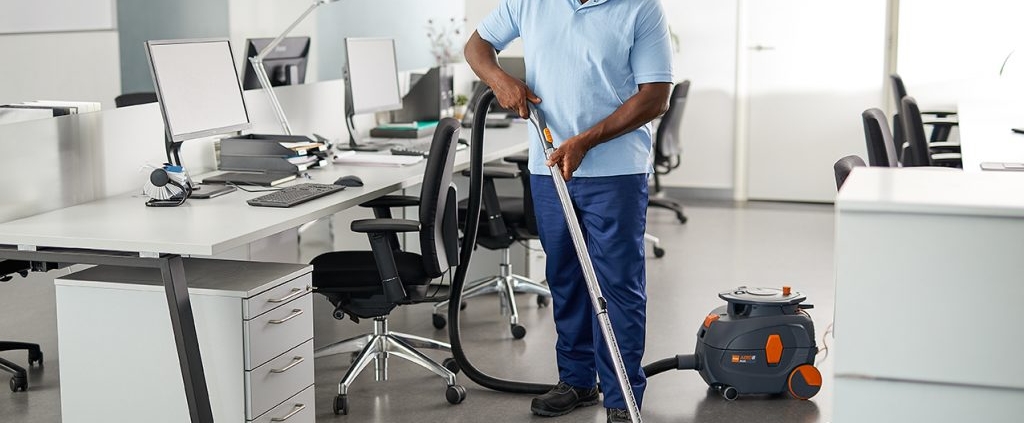 We believe the TASKI AERO tub vacuum cleaner is the quietest and most energy-efficient machine currently available on the professional cleaning market. The four models in the range produce only 53dB(A) of sound and utilise just 585W of electrical power in standard mode. But they produce as much cleaning suction as machines rated at 1000W or more. In "eco" mode they produce just 50dB(A) and consume a mere 295W. On energy savings alone, they can pay for themselves in under three years.
The range is available in thirteen- and fifteen-litre tank capacity models, both with mid-class and performance versions. It meets demand for vacuums that comply with the stringent sound and energy limits specified in EU Regulations EU665/2013 and EU666/2013, in force since September 2017.
The TASKI AERO vacuum's revolutionary design ensures the maximum amount of air is used to create the all-important suction at the cleaning head. By redesigning the machine's internal airways, TASKI engineers eliminated the obstructions, constrictions and potential points of leakage that reduce efficiency and produce unnecessary noise. Adding newly-designed components and ultra-efficient electric motor further boosted efficiency and cut noise. This combination of patented designs and components is called "whisper technology".
Trials show TASKI AERO vacuums in typical professional settings will consume around £30 less electricity a year than conventional machines. This means a TASKI AERO will pay for itself in less than three years – representing the most competitive total cost of ownership package available.
The latest addition to the TASKI AERO range is our new TASKI AERO BACKPACK vacuum cleaner. This can be carried comfortably as a portable electric model but is also available in a battery powered version for the ultimate in agility and convenience. Its unique 3-in-1 capability allows it to be used as a backpack vacuum, tub vacuum or as a blower.
The compact portable design makes the TASKI AERO BP ideal for cleaning areas that are difficult to access with conventional equipment. These include busy entrances and congested schools, office buildings or public transport. The battery model offers ultimate performance in high circulation areas, or anywhere the presence of the public makes safety a priority, because there are no trailing power leads.
The TASKI AERO BP is among the lightest backpack vacuums. Its ultra-slim profile and high-quality rucksack material make it extremely comfortable to carry. The near-perfect weight distribution across the user's back ensures maximum comfort. The overall weight of the electric version is just 4.7kg, while the battery version barely exceeds this at 5.3kg.
Lithium battery technology gives users the confidence of high flexibility and autonomy. The TASKI AERO BP Lithium model can be fully recharged in as little as 90 minutes and has a runtime of 30 minutes. This effectively means it offers limitless autonomy. The electric version has an A-rated energy classification and delivers an impressive 30ltr/sec of suction while the Lithium version delivers an effective rate of 22ltr/sec of suction.